*This post may contain affiliate links, please see my disclosure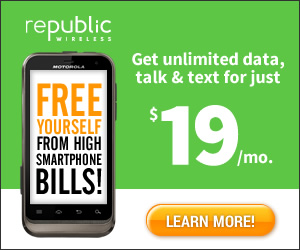 Disclaimer: I did not receive any payment for this post, but I do receive a small commission if you sign up through my links. As always, I appreciate any support, and hope you enjoy the savings! I also think Republic Wireless is onto something revolutionary here, and I wanted to share it with you!
If you pay more than $20 for your smart phone, raise your hand. Ok….keep your hand in the air until you have finished reading this post, because trust me, you will be able to put your hand down the next time that question is asked once you learn more about Republic Wireless.
The Story
I was approached by Republic Wireless to test out their wireless service. I started to do a little reading on them, and found out they have a simple, yet brilliant strategy. Bring the astronomical cost of wireless service down to a small fraction by utilizing something that is surrounding all of us at all times. No, there are not air-powered cell phones, but almost just as cool. Republic wireless is built on using a smart phone app to make UNLIMITED calls, data and text using WiFi. And that's it. Seriously simple. Seriously smart!
I was sent a phone to use, and a few months of service to get a feel for how Republic Wireless worked, and to "kick the tires" on using WiFi for my everyday smart phone usage. Honestly, I didn't have much use for the phone because our current family plan is super cheap and unique, but I was pretty excited to see how Republic would perform, because this is revolutionary in the wireless industry.
I pulled out the phone, powered it up, and downloaded the app required to make the awesome WiFi calls. I connected to our home WiFi and called Michelle for a test run. Flawless. We chatted a bit, then realized it was weird standing 5 feet from each other and having a conversation. I hung up and realized that something awesome had just happened that could change the way cell phones are used forever. No more paying some company who built a ginormous tower hundreds each month for a "family" plan. No more crazy data rates. Just simple, effective technology to lower phone bills and save people a ton of money.
The Prices
Republic Wireless real sell is not their phones (though, they are talking about coming out with some newer models, which is just icing on the cake). No, their sell is the fact that you can get unlimited data, text and minutes for $19 a month with no contract. No seriously, unlimited service for $19 flipping dollars, and no strings attached. The only catch, you have to buy your phone, which currently retails for $199. There's a second option to purchase the phone for $79, and the bill is then $29 per month, but if you want to save long term, I would opt for option 1. Here's a quick breakdown:
Option 1: $199 up front, $20 a month (rounding up because math is hard).
Year 1 = $440 total cost
Year 2 = $240
Year 3 + = $240
Option 2: $79 up front, $30 a month.
Year 1 = $440 total cost
Year 2 = $360
Year 3 + = $360
Option 3: $200 iDevice, $120 a month (for unlimited service)
Year 1 = $1,640 total cost
Year 2 = $1,440
Year 3 + = $1,440 (barf)
And feel free to use this fancy pants calculator to see how your cell plan stacks up.
The Details
I don't want to rehash what others have already done much better than I, so I'll leave you with a few links to go over some of the details and frequently asked question about Republic Wireless. Also, you can just visit their site to sign up for service, learn about their company, and be generally impressed at how simple and awesome this idea is. But here are some quick points about the service you may want to know:
They don't currently support sending photos and videos over traditional text messaging (MMS). But you can email, snapchat, facebook, etc.
If you're not on WiFi, they use Sprint's cell towers for coverage. If you're on a WiFi call and leave the network, you will need to redial the call.
You can transfer your phone number to their service, which is awesome!
There are more phone options to come in the future, don't you worry your pretty little head!
Links:
Republic Wireless FAQ (Frequently Asked Questions) page
Conclusion
Republic Wireless is offering phone service at a disruptive price point. WiFi is everywhere and most everyone, especially for those of you in college, are surrounded by it ALL THE TIME. So why keep paying hundreds per month for the privilege of using a phone that performs the same functions at the Republic Wireless phone offering? I mean, there's a reason those companies have contracts and discounted phone, because they have to tie people down so they don't get any ideas, like SAVING OVER $1,000 PER YEAR on their cell phone plans. I mean, that would be bad for business.
I totally support what Republic has going on here, and am behind their mission 100% to stop the ridiculous cell phone price gauging and get people their service for a reasonable rate. And that rate happens to save America 80% on their monthly bill. For those of you with your hand still up…..I suggest clicking the link below and start saving some serious cash today.

Comments: How much are you paying for your cell phone plan? Do you see any reason to keep it now with this awesome deal they have going on? Anyone here use Republic Wireless?